We create APPS thinking about people
The success of a "Mobile Project" is not the result of chance. Before we begin, we make sure we get clear understanding of the key concepts of the project and after defining a concrete strategy, we begin to develop the application.
Get to know us
Contact us
We develop Apps for iOS and Android
We create hybrid applications, which means that all our developments are "Multiplatform". This system allows us to access the most advanced features of the device: Access to peripherals (GPS, cameras, etc.), push notifications, multimedia processing and background processes.
Our applications are adaptable to any size of mobile device and tablets, they can also be adapted to Windows, Mac and Linux Desktop Mode.
All the applications can work with or without an Internet connection.
All our applications have advanced encryption systems with the possibility of integrating other systems, such as private networks, VPNs or custom servers.
We use the most advanced programming techniques with the latest tools: Angular, MongoDB, Docker, Ionic, Ionic Capacitor, Apple iOS, Android, GraphQL, Redis, Http v2, API Rest, NodeJS, TypeScript.






General Features
Application with integration of advanced technologies:

Push Notifications.
Multimedia treatment (image and video capture).
GPS tracking and location.
Background music management.
Background data functions.
Content protected by Login.
Registry.
Integration with both native and YouTube videos.

Different components can be used, such as registration formats, image or video treatments.

Online content, i.e, Interactions with a Server Via the Internet.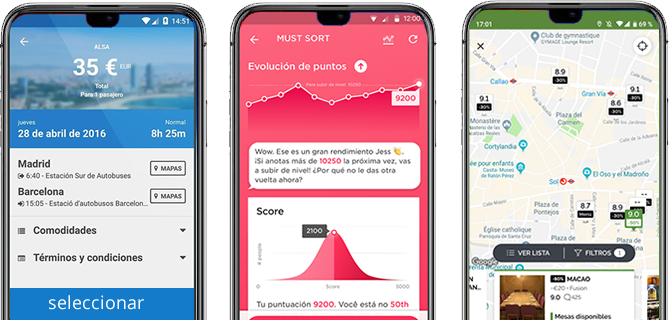 Should we talk about your APP?
Call us at 918 28 58 10 or fill out the form and we will get in contact with you.