In the times we live if you make a mistake is more noticeable…or people make it more noticeable. Before your clients and friends in your neighborhood had experiences very similar to yours, a very similar education, similar families and selling your products and services was easier because you sold them to people very similar to you. Now you have the advantage that you can reach the whole world with your products and services, but those thousands or millions of people who see your publications are no longer so much like you and you must know them so as not to hurt them. And add to that, not everyone has to like what you do and you can be wrong.
Then…what do I do if I screw up my business social media?
No one is perfect in this world and even the world's most skilled Community Manager more than once has had to think " swallow me up"
And in case you don't believe me, I'll leave you some examples that are so familiar that they are even cases of study in many courses and universities.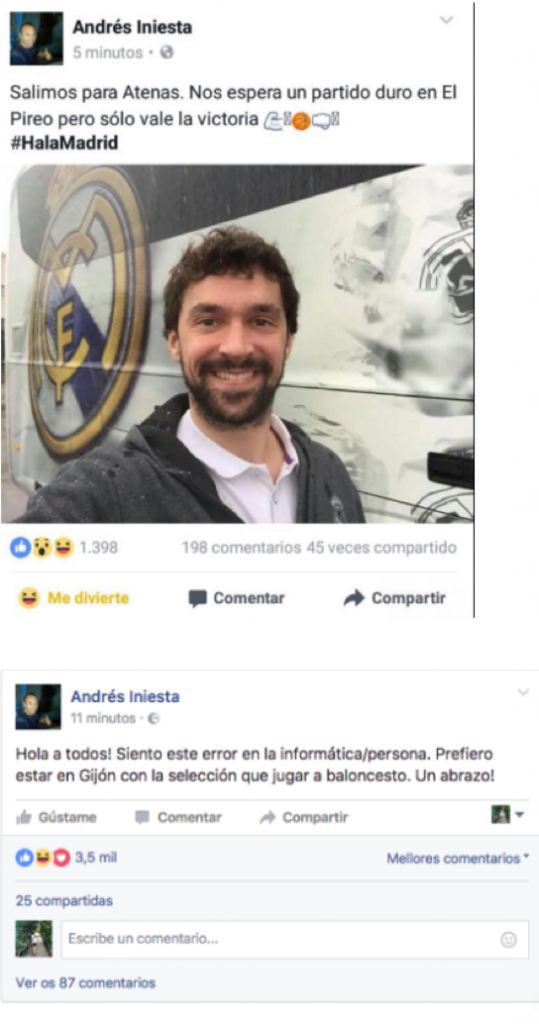 In this case we see how the Community Manager of several athletes confuses the profiles of their clients and changes the roles. and that can happen to everyone…huy…that blunder!
Publish in the profile of the former player of FC Barcelona Andres Iniesta on the news of that day for the player of the basketball section of Real Madrid, Sergi Llull
But as err is human, the correction is immediately made and it is taken as a funny anecdote that has surely shocked the followers when they found it on social networks that day.
Even if your heart accelerates when you screw up on social media, just think there's always a solution.
National Police social networks are one of the ones I like best to follow, they are original and they teach us to respect the law in a fun way. But this blunder is so famous that over the years, we are still using a lot of courses. To keep in mind, if you are the Community Manager of the police don't teach people to hide drugs in the airport, because for sure that you screw to the bottom:
Now that we have laughed a while and we know that putting the to in social networks is human we learn to fix the mistakes that we commit in the best way possible.
I messed up on social media. What do I do?
When you publish on social networks you must have access to them wherever you are, so you must have your social networks and tools installed on your mobile as well. Don't work alone from your computer and have internet access wherever you are. You should always be connected.


---

Set the notices and notifications well so you can see them easily. If you see the icon of Facebook, Instagram or e-mail your phone will receive more and more notices of what standard can something happens. Check the publication.


---

Find the problem, find out it originated it. You need to know if it's really a real problem, how much damage it can do to you.


---

Plan a strategic solution calmly and if necessary analyze between several solutions which is the best or the one that would cause the least damage to your brand.


---

Stay calm and always stay in the place of others, you can't erase from people's minds what is published, so go through with it but with empathy. Getting angry with your followers will hurt you even more.


---

Never erase the bad comments, because that will turn against you. It's human to make a mistake and you can recognize it. If any follower has been rude and disrespectful, so will everyone. You always look respectful.


---

Be as quick as possible to publish or provide a solution. It is important that your answer is not kept waiting.


---

Create open and sincere dialogue with your followers, but be cautious.


---

Do not think that you will answer and the problem will disappear, sometimes it takes a little more time and others remain for cases of study in courses of Community Manager jeje